Food Lover's Guide to Provence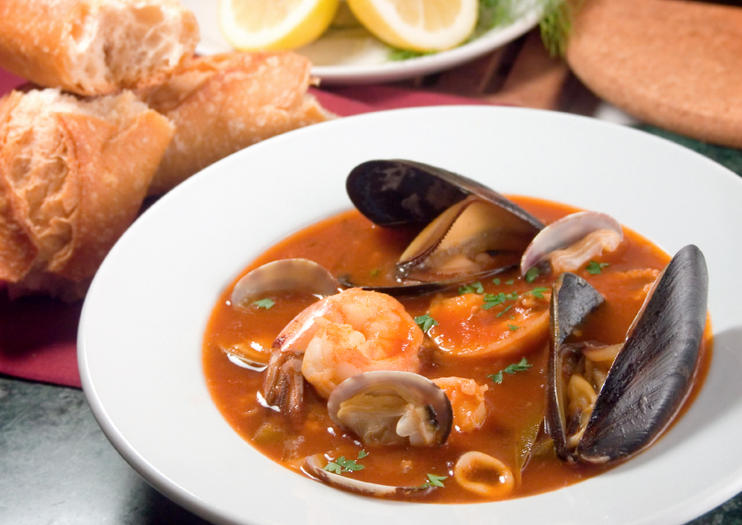 Provençal cuisine highlights the bounty of France's Mediterranean coast. Dishes are made with local herbs and seafood, and are often from traditional recipes passed down through the generations. Here are a few of the flavors and activities to seek out.
Must-Try Dishes 
The Mediterranean warmth, coastal rainfall, and fertile soils of Provence provide the perfect conditions for fresh produce to flourish. Sun-ripened vegetables, herbs, and home-grown extra-virgin olive oil are the backbone of traditional Provençal cookery. 
With the Mediterranean Sea so close, anchovies, clams, langoustine, mussels, shrimps, squid, and tuna feature on ingredient lists all along the coast. Traditional dishes such as bouillabaisse and ratatouille, built on fresh shellfish and vegetables respectively, are often found in restaurants, while niçoise salad is another popular plate, with tuna steak, lettuce, green beans, and tomatoes layered among crisp salad leaves. Seafood also features heavily in brandade, a fish-and-potato stew made with local salt cod. Rouget (a small, red fish popular in Provence) and loup de mer (sea bass typically grilled with fennel) are fine examples of the fresh fish dishes for which the region is famous. 
Provence also has its own regional delicacies to rival the humble baguette. Fougasse is the traditional bread—a circular flatbread typically filled with nuts or olives—and travelers can also look out for socca (a peppery bread made of chickpea flour), pissaladière (a local pizza-style flatbread), and pan bagna (a bread roll topped with anchovies, olives and tomatoes).
Must-Do Experiences 
Visit a home in Nice or St. Jeannet to discover new flavors in a cooking class.

Learn how to pair wine with traditional Provençal cuisine.

Follow a guide on a food tour of Nice and discover the diverse ingredients of Provence among its delis, markets, and specialty food shops.
Read More
Show Less
---